Knowledge is the only resource that increases when used!
Over the years, we have collected many useful tips & tricks from our own experiences and discussions with consumers and are providing them here for you. If you should, nevertheless, have questions or suggestions for us and you cannot find any information on these here, you may contact us at any time via chat, e-mail or telephone – we will be pleased to assist you further.
27.12.2019
While we celebrate New Year's Eve extensively with fireworks, it can become a nerve-wracking strain for our four-legged friends. Panting, drooling, trembling… Many pets react insecurely and stressed to fireworks. With the following tips they will survive the fireworks without any damage. Read more here.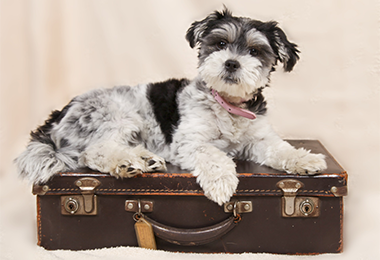 17.12.2019
Pets are a part of the family and when we travel we would love to have them with us. Find out how best to travel with your dog and cat here.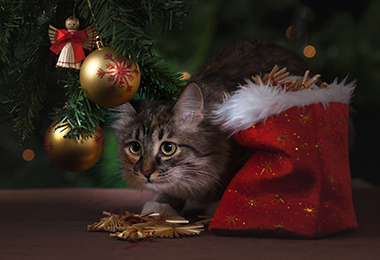 06.12.2019
The gifts are organised, the house is beautifully decorated and the planning for the Christmas dinner has already begun – but have you thought about all the arrangements for your pet? Whether an open cookie tray or a decorated Christmas tree, there are many dangers lurking for your four-legged companion during this time of year. We have put together some tips for you so that you can enjoy the Christmas season with your pet. Read more here.
19.11.2019
When it gets cooler outside and the air drier, we simply protect our hands with gloves and apply hand cream regularly. In order that your four-legged darling can enjoy the winter without paw injuries, we have listed the most important tips. Read more here.
05.11.2019
The apartment is puppy-safe, you have organized everything for the first equipment and now you also know how to behave on the first day. However, there are other things you need to be aware of. We have compiled the most important tips and tricks for you. Read more here.
28.10.2019
Cats are very neat animals, which value the fact that they can carry out their "business" in a clean place. Especially for house cats, which do not have the possibility to do their business outside, it is very important that the litter box is always clean. Read more here.
11.10.2019
The anticipation is huge, as after several visits the first own puppy can finally be taken home. Of course you don't want to do anything wrong and everything should be perfectly prepared for the little rascal. What you have to pay attention to, is listed here.
11.09.2019
Among dog owners there is often a discussion about how often the dog should actually be bathed and shampooed. Do dog shampoos damage the natural protective function of the skin or is it actually a benefit for the dog? Read more here.
28.08.2019
Many dog owners are aware of this situation: As soon as our four-legged darling sees the water, he runs off and plunges into the cold water. The dog doesn't really care how big or small the waters are, as long as he can be inside and play. However, this isn't completely harmless. Read more here.
14.08.2019
They don't need round-the-clock care like a dog and are more familiar with people than hamsters. We are talking about cats here. Cats come to us in different variations, fit to every interior and to every character. And yet they are very individual and possess one of the freest souls in the world. However, especially in big cities there are some things that have to be taken into consideration to make the cat feel comfortable and be confronted with as few dangers as possible in the everyday life. Read more here.
27.06.2019
Incontinence is an unwanted loss of urine. However, many people are not aware that not only humans can suffer from incontinence, but also animals such as dogs and cats.  This is completely independent of their breed and sex. Signs of incontinence are not only large urine pools, but also small droplets can already indicate that the pet suffers from this problem. Read more here.
24.06.2019
Whether long or short hair, patterned or plain – ticks make no halt to any fur. Pets that are often outdoors and wander through forests and meadows are particularly at risk. And although pets themselves do a lot to ensure that their fur is always well groomed and not covered with parasites, there are places they cannot reach themselves. Read more here.
26.05.2019
Brush your dog thoroughly before it gets into the bath to make it easier for the water and treatment shampoo to reach every inch of its coat and hair. This will also remove any dirt, dust and dead hair and result in a gentler bathing routine. Read more here.
30.04.2019
With the constantly rising temperatures and the ever longer days, it is not only spring that announces itself but also unwanted pests such as ticks that will now keep pet owners busy again for several months. Read more here.
13.04.2019
Although most pet owners worry more about ticks, fleas are not to be underestimated either. They are some of the most frequent skin parasites on dogs and not only cause skin problems such as itching; they can also transmit diseases such as the cucumber tapeworm and occasionally micro-organisms that are harmful to health such as bartonella, rickettsia or mycoplasms. With suitable measures and adequate flea prophylaxes, however, the summer can be spent free of fleas. Read more here.